The current year's Academy Awards class photograph has been divulged.
Every year, Oscars chosen people juggle an activity pressed grant season move card that has all of them however driving from one starry celebrity central and dark attach affair to the following.
So when it's the ideal opportunity for the yearly Academy Awards chosen people lunch meeting, the relatively calm, wine-filled assembling at the Beverly Hilton in Beverly Hills is a welcome, no-anxiety rest, bringing about one exceptionally ritzy gathering picture.
Almost all the year's chosen people – including this current season's dears Leonardo DiCaprio, Alicia Vikander, Brie Larson – appeared on Feb. 8 to raise a gathering toast, get up their official testaments of assignment and stance for a memento "class of 2016 photograph" on a dais stuffed with the A-rundown preferences of Sylvester Stallone, Lady Gaga, Jennifer Lawrence, Matt Damon and Steven Spielberg.
Here's a behind a behind-the-scenes look at the coolest lunch in town: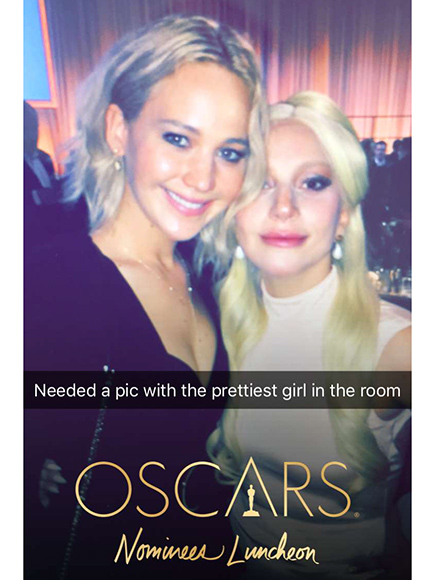 • "Follow me!" said Jason Tremblay to his 9-year-old child, Room star, Jacob Tremblay, who tasted a Shirley Temple as the team advanced onto the outside porch before the lunch started. More intrigued by the maraschino cherry bouncing in his beverage than the A-rundown swarm, Jacob enthusiastically told his father: "There's a cherry in it… I'm squishing all the juice out of it!"
• Creed star Sylvester Stallone was an enormous hit at the lunch meeting and for a few minutes talked with a perky Dicaprio as lunch-goers were wowed by the unique pair.
• Spotlight maker Michael Sugar complimented his star Rachel McAdams on her blonde highlights before she chanced upon Dicaprio, who kissed her on both cheeks before the two sat down at allocated tables.
• Descending the stairs into the dance floor, The Revenant executive Alejandro G. Inarritu, straight from his Directors Guild win on Saturday, tells a companion, "I'm drained.. I'm numb!" Soon he was occupied with a visit with Spielberg.
• Spielberg and Dicaprio appreciated a vivified visit while The Martian creation architect Arthur Max thought back about Woodstock (yes, Woodstock) with his pleased table-mate Alicia Vikander, who tasted white wine.
• During the lunch, Cheryl Boone Isaacs, president of the Academy of Motion Picture Arts and Sciences, gave the collected gathering some guidance from the platform: "Just take a breath and unwind!"
• Larson and Joy candidate Jennifer Lawrence made up for lost time near where Stallone paused for a minute to visit with youthful Tremblay before Tremblay's dad snapped an individual photograph of the team.
• Lawrence grasped Eddie Redmayne, who did the polite thing and gave his coat to his wife for warmth.
• Oscars maker David Hill paused for a minute to praise a reserved Lady Gaga from the stage for her Super Bowl interpretation of the National Anthem.